Sedation Options
Helping your kids relax for the treatment they need
Some kids have anxiety about going to the dentist and especially if they have to have treatment.  We offer 3 forms of sedation in order to help them and you feel good about the visit.
Nitrous Oxide or Laughing Gas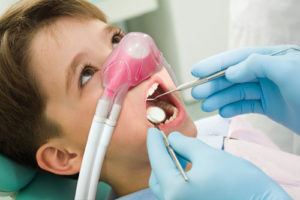 Sometimes, children need to be given nitrous oxide, or what you may know it as is laughing gas, to relax them for their dental treatment. Nitrous oxide or laughing gas, is a blend of two gases, oxygen and nitrous oxide. It is given through a small breathing mask which is placed over the child's nose, allowing them to relax, but without putting them to sleep. The American Academy of Pediatric Dentistry, recognizes this as a very safe and effective in treating children's dental needs. The gas is mild, easily taken, then with normal breathing, it is quickly eliminated from the body. Laughing gas is not addictive and your child stays full awake during treatment but just in a more relaxed state.
Conscious Sedation
Conscious Sedation is recommended for children that may be a bit more apprehensive, very young children, and children with special needs. It is used to calm your child and to reduce the anxiety or discomfort associated with dental treatments. Many children become extremely drowsy and even fall asleep but will not lose consciousness.
There are several different medications that can be used for conscious sedation and the doctor will discuss with you what is the best option for your child.  Your child's overall health will be taken into consideration along with the type of treatment they will be receiving.  We will be happy to answer and questions you may have about those drugs.
IV Sedation
This type of sedation is recommended for any child that conscious sedation may not be a good idea or fit for.  This type of sedation puts the child completely to sleep through the treatment much like they do when getting their tonsils removed.  If it is determined this type of sedation is best for your child and their circumstances, we will go over all the details with you in advance and answer any questions you may have.
In order to provide the best and most comfortable care, we also offer 2 state of the art surgical suites.
We want you to be as comfortable as your child when it comes to helping them get the treatment they need.